John Rogers NYC Photography Testimonials
It's been a pleasure working with John. He really understands a musician's way as he's such an artist himself with his musical photography.
John Rogers has a deep passion for the Music and the Musicians who create it.. His artistry as a photographer reflects that passion with a magical personal expression all his own.
For the past few years, John Rogers has been my "go to" for documenting my NYC music environs. He captures the images that sum up the sounds.
John Rogers has a great eye, is efficient and unobtrusive - and is a total pleasure to work with. And importantly, he knows jazz music and jazz musicians – invaluable skills when it comes to the candid and performance shots that are his specialty.
John Rogers. His love and passion for the music is deep. He is there, in it, where it's at, opening a window for us. Thank you John.
John's camera has followed me on gigs big and small: from the Broadway stage to the smallest little nightclub. No matter the amount of light or space, no matter the venue, John always delivers the sort of strong, beautiful, classic images that magazines and fans love. John cares about what is important to me as an artist and he always gets his shot.
I adore John Rogers's commitment to jazz. He's in the great tradition of idiosyncratic and passionate fans. Since he is a major photographer as well, his work is unrivaled at capturing the energy of the contemporary scene. Some of my personal favorite shots of myself were taken by John Rogers.
Ethan Iverson The Bad Plus Do The Math
John Rogers is that rare jazz photographer who seems totally in tune with his subject matter. His subtle and profound images are created in the same spirit of improvisation that the music he so reveres is based on. He's one of a kind.
Jed Eisenman General Manager, Village Vanguard.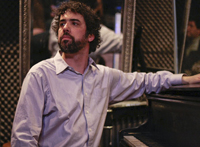 John Rogers is a true Jazz photographer. He fundamentally understands the essence of what it is to play this music. His photographs are true windows into the souls of the artists he portrays, capturing their joy, sadness and humanity. In my mind, John Rogers is a real artist that can express with the camera and is creating a body of historic and truly important work.
Spike Wilner Jazz Pianist/Owner and Manager of Smalls Jazz Club
There are Photographers and then there is John Rogers. He is a great artist who captures the depth and emotion of all the artists he has photographed.
John Rogers is always on my short list of music photographers I recommend to clients based in New York. Efficient. Reliable. Affordable. I have recommended John to many independent artists in need of better publicity images - and I will continue to do so based on the excellent results he consistently delivers.
Matt Merewitz Founder, Fully Altered Media
We were lucky to have John photograph our wedding day. I was familiar with John's work photographing artists and I knew he would give us the depth we were looking for. His quality of work was matched with his professionalism before, during, and after our wedding day. I recommend John to anyone who is looking for professional work.
Joe Sucato
I love John Rogers' eye for getting beautiful shots.
Because I had done press shots with John before, and because I really love his live photography, he was a natural choice when my husband, Eric, and I started to plan our wedding. In the planning stages, he worked with us to make sure that everything from the style to the logistics was covered, pointing out crucial things we'd missed. His professionalism and advice made things easier for us.
In terms of the pictures themselves, we could not be happier with the results. John's vibrant photographs really captured the essence of our intimate celebration, and his extensive experience in live photography is evident in the "life" that shows in every one. Our friends have loved seeing them, and when we look at them, we really feel like we are back in those moments, with all our loved ones. I think that's what everyone wants from a wedding album.
Lis Rubard